She may have just celebrated her 52nd birthday on Tuesday but Elle MacPherson is still at the top of her game, proving that Old really is Gold.
At the height of her career, Elle MacPherson was known as "The Body" - a moniker that was given to her by Time magazine when she appeared on its cover in 1989. And it's a name that has stuck with her till now, more than 20 years later.

Born in New South Wales, in Australia, MacPherson is the daughter of entrepreneur and sound engineer Peter Gow, a former president of a Sydney rugby league team, the Cronulla-Sutherland Sharks, and Frances Gow, a nurse. And while she is internationally recognised as Elle MacPherson, not many know that she was born with a completely different name. Yes, The Body was born with the name Eleanor Nancy Gow. She only changed her name to MacPherson when her mother remarried soon after her 14th birthday. But let's be honest, Elle MacPherson sounds way better than Elle Gow.
As a self-professed tomboy (like, who would have thought, right?), MacPherson preferred climbing trees to playing with dolls, and later worked her way to gain a place at Sydney University to study pre-law. She didn't complete the degree as she was spotted by a modelling scout while on holiday in Aspen. But that wasn't really a big deal since that chance encounter led to the start of an extremely lucrative career.
She travelled to New York City, where she initially signed up with Click Model Management. Her modelling career began in 1982 with a television commercial for Tab which established her as a "girl next door" figure in Australia.
During the 1980s, Macpherson's profile quickly rose and she graced the cover of major magazines including Cosmopolitan, Elle, GQ, Harper's Bazaar, Marie Claire, both the British and Australian Vogue, Time, L'Officiel, Flare and New York magazines. She cemented her high profile through frequent appearances in Elle, featuring on numerous covers and appearing in every issue for six straight years.

During this era, MacPherson walked for designers including Ralph Lauren, Azzedine Alaia, Donna Karan, Nicole Miller, Perry Ellis, Todd Oldham, Calvin Klein and haute couture for John Galliano, Valentino, and Christian Dior. MacPherson also shot numerous campaigns for the Victoria's Secret catalogue.

The biggest recognition in her modeling career came in 1996 when Frank DeCaro of The New York Times cited MacPherson, along with Linda Evangelista, Christy Turlington, Cindy Crawford, Naomi Campbell, Helena Christensen and Claudia Schiffer as "The Magnificent Seven". And the era of the supermodels began.
Then and now: Elle MacPherson in the early 1990s in Chanel (left)
and in 2010 at Louis Vuitton (right)
THE SHOW MUST GO ON...
Today, MacPherson is no longer a working model but she is still at the top of her game. Having celebrated her 52nd birthday this week, the Australian blonde bombshell still has "The Body". It's not surprising, considering she sits at the top of a successful health and beauty company.
In 2014, MacPherson co-founded WelleCo, and released its flagship product, an alkalising wellness supplement called The Super Elixir. The product, sold at retailers including Selfridges in London and the premium online retailer, Net-A-Porter has celebrity fans including Kate Moss.
Vogue.com wrote that MacPherson wanted to share this wellness product with just about everyone who has a credit card and an internet access. The vegan-friendly product boasts a mix of vitamins, Chinese herbs, enzymes, super-greens, and pre- and probiotics. It can be blended with water, juice, or sprinkled over salad. The brand's debut product, The Super Elixir, was created by London-based nutrition expert Dr. Simone Laubscher, and is a fine-tuned version of the powder supplement she has concocted for MacPherson for years.
I don't know about you, but I feel like hopping over to Net-a-porter.com and buying me some Super Elixir. I mean, if Elle MacPherson still looks THAT great at 52..
and now that we've gotten the basics out of the way....
Right, here's the thing. I am a "modeliser" (basically, one who idolises models). I work in fashion, can you blame me?

And I've always admired Elle MacPherson, but not for the reasons most hot-blooded men love her. Sure, she has an amazing body but more than that she's still very relatable and looks like someone you'd want to hang out with. Maybe that's her "girl next door" appeal that still prevails even after all these years. Maybe, also, she's the quintessential blonde beach babe we all dream to be.

In an interview with Vogue, MacPherson once said that putting on a bathing suit feels "more natural" to her than putting on pretty dresses and jewellery.

And, really, who can ever forget that moment at the Met Gala in 2005, when she appeared in a strapless satin gown paired with slip-on sandals that are meant for the beach?
One of the best things about looking at pictures of Elle MacPherson online is that, while she does like to don the evening gowns, it's very rare to see her in a very tailored piece. Call it the Boho Barbie look, if you must.

I love a woman in a pair of sexy heels any day but Elle MacPherson was the first model to actually make me fall in love with the idea that evening gowns can look great with flats and sandals.
The Body in a series of red carpet appearances wearing
gorgeous gowns paired with chic flat sandals.
Alright fine, she is a tall drink of champagne (she is 1.83m - that's 6cm shorter than I am). But not bending to social conventions of wearing heels with gowns is what makes Elle MacPherson a supermodel in my books.

Like me, she loves accessorizing. The mother-of-two perfectly nails the "yummy mummy" look with accessories - and lots of them. There's the pashmina, draped over her shoulders; the chunky belt, and an assortment of bracelets worn with her signature large gold wristwatch.

A few years ago, I came across a story in one of those tabloid magazines about MacPherson's family vacation in Australia. It showed pictures of her well-toned body surfing in the Australian waves and I was hooked! I remember wanting to fly to Bali just so that I could have that experience as well.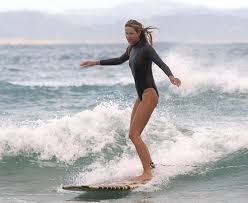 (OK, as a sidenote, I just want to say that me "riding" the waves of Bali was more of me trying not drown and subsequently looking like a beached whale as I plopped down onto the sandy beach. Then again, we're not all Elle MacPherson, and a boy can always dream!)
More than that, I love the fact that she's a smart businesswoman. In fact, she was perhaps the first businesswoman who came from the modeling world.
In the late '80s, a lingerie company asked MacPherson to endorse its products, but she turned around and said they should give her a licensing deal. She gave up her Victoria's Secret contract and launched Elle Macpherson Intimates. That became a huge success for her. Later, in 1994, she left her world-famous agency, Ford Models, and started Elle Macpherson Inc. And now, she sits on top a globally successful health and beauty company!

I don't think I can stress this enough - of all the fashion heroes we've talked about Elle MacPherson is probably one of the best there is. She is empowering, inspiring and, at 52 years old, still pretty darn hot.
Is it any wonder then that she is a #fashionhero in our books?