We've all tried looking for that one product on the market that works - for cheap. It's no surprise that many of the items that make it to our list of holy grails usually cost an arm or a leg. But recently a new player on the market has been receiving tons of good reviews, mostly for the quality of the product in relation to how affordable it is. And while I'm swept up by all the amazing reviews, I'm remaining moderately skeptical till I've had ample time to review these items. But for now, here's a first impressions post along with a mini unboxing situation.
As an avid watcher of Youtube videos, most of my time is spent on review videos, Buzzfeed taste tests (yes this is true) and the occasional mindless videos on Youtube that everyone knows exists, but might not speak about. And with regards to review videos, one of my favourite Youtubers would be @gothamista, who has an amazing knowledge on the science behind skincare and the ingredients that are in the products we use. It was on her channel that I first discovered The Ordinary, which then developed into a solid hour of googling, research and review reading/watching of this brand.
The Ordinary is a Canadian line of skincare under the main brand - The Abnormal Beauty Company, and what The Ordinary offers is quality skincare at really affordable prices. And I mean it, it's seriously affordable. They have a wide range of products that works on a "single-ingredient-focus" basis and prices start from approximately 5 USD. 5!!
*P/S - Keep scrolling down to skip all the talk on unboxing if you're too eager to find out about the product! Here we go!
Tada! Here's my loot that I promptly bought about 3 hours of finding out about this brand. As mentioned, The Ordinary focuses on single ingredients in their products to bring out the optimum effect of that specific ingredient. For this round of purchasing (I highly suspect it will not be my last), I went ahead and bought the Lactic Acid 5% + HA 2%, Niacinamide 10% + Zinc 1%, "Buffet", and the Alpha Arbutin 2% + HA serums.
I'm definitely a sucker for good branding and/or packaging and I do love the whole aesthetic of The Ordinary. The no-frills concept along with it's price point gives me the vibes that this company is not messing around, with the sole focus of delivering what's necessary without forgoing quality.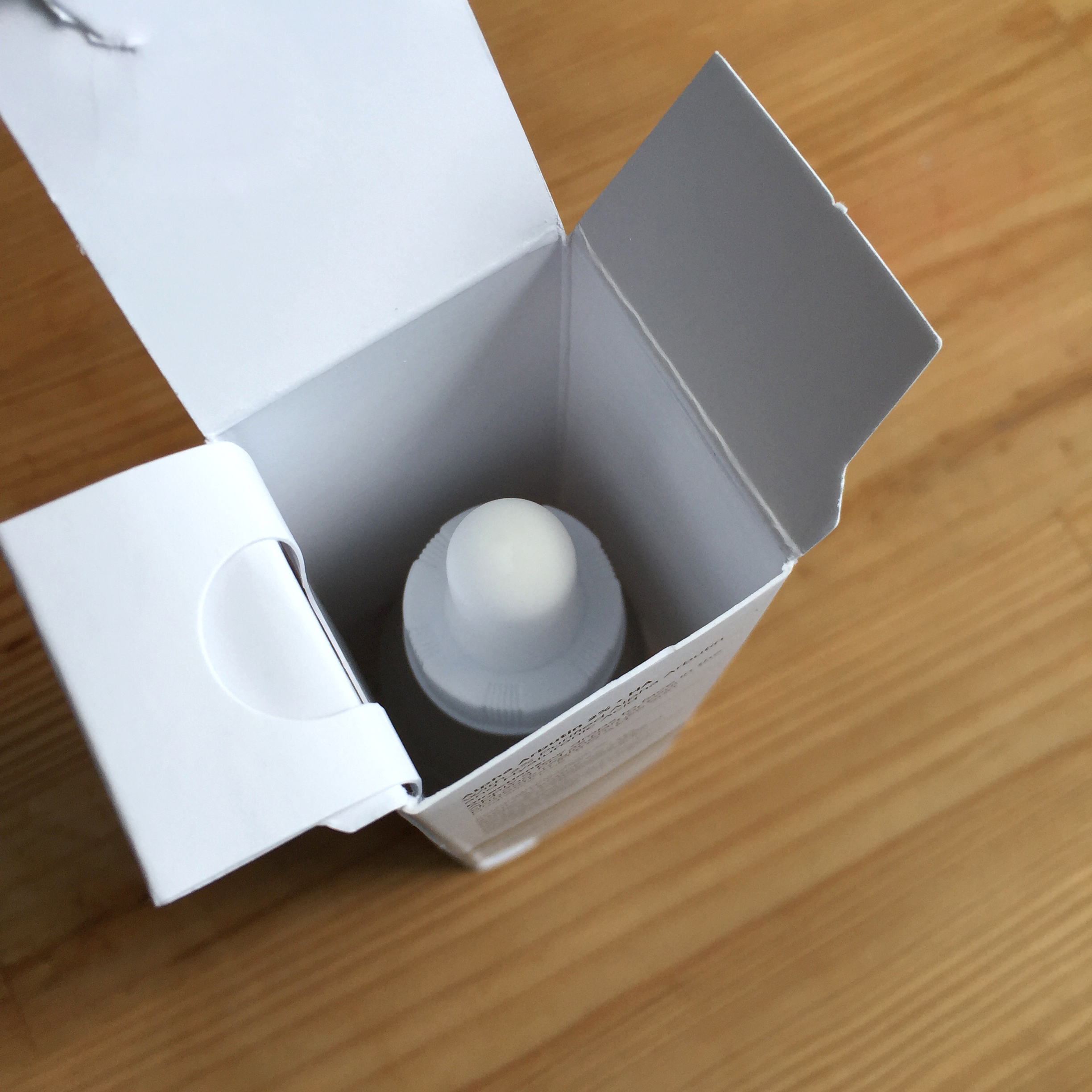 Attention to detail is also given to the packing of the item - there is a top flap with a cutout sized to fit the rubber nozzle to ensure that the bottle does not shift around whilst being moved. My only issue with this would be how it's difficult to open the box without tearing the flap. But then again I face this problem with most any cardboard box I open.... It might just be me. Also, I find the bottles absolutely adorable. And I appreciate that everything is in dropper-type bottle, which makes things easier and kept hygienic as well.
And finally, on to the actual products.
Lactic Acid 5% + HA (Hyaluronic Acid) 2%
What's stated on the bottle: A mild lactic acid superficial peeling formulation.
First Impressions: Out of all the serums/essences I have of the lot, this definitely has the lightest texture and it's more to the liquid side rather than a viscous texture. I was initially slightly hesitant about this product, simply because my face has not really responded well to acids, even the gentler ones such as AHA and BHAs. Nonetheless, after giving this a go, I was pleasantly surprised. There was no overwhelming chemical or alcoholic scent and there was zero stinging as well. And with the addition of the 2% hyaluronic acid, I don't feel any tightness or dryness on my face after application. A definite bonus would be the absorption rate of this product, in fact nearly all 4 of these products. It feels tacky upon application, but that feeling goes away completely after a minute in - which to me is absolutely amazing as none of the other products I use ever get absorbed that quickly. This would definitely be good for anyone trying to get in to acid/chemical exfoliators for the first time, it's a gentle enough formula!
Alpha Arbutin 2% + HA
What's stated on the bottle: A concentrated serum with 2% purified alpha arbutus and hyaluronic acid.
First Impressions: This is definitely one of the serums that has a thicker consistency in comparison to the rest, but not more so than "Buffet". Don't let this deter you from getting it however, because the consistency definitely does not affect it's absorption rate. Arbutin prevents the formation of melanin and is usually used as a whitening/brightening agent in skincare products, and we don't just have Arbutin in this formula, but Alpha Arbutin and a whopping 2% of it. As someone who struggles with pigmentation and a slight smattering of sunspots, this product definitely caught my attention. Once again, thanks to the hyaluronic acid, my skin isn't left dry or too taut after application. This has a slightly more clinical smell to it, but nothing major that throws me off (and I'm really sensitive to scents). However, one thing to note would be to use sunscreen along with this product as it makes your skin more sensitive to UV.
Niacinamide 10% + Zinc 1%
What's stated on the bottle: High-strength vitamin and mineral blemish formula
First Impressions: A little goes a long way for this product, despite it's slightly viscous consistency. Niacinamide is an ingredient known for it's effective skin-restoring properties and is even scientifically proven to visibly improve the appearance of enlarged pores. This is one product that I bought to help me with my blemishes and even my T-zone. Sometimes I use it as a spot treatment but, for the most part, it just goes all over my face. Once again, it gets absorbed into my skin really quickly which still, does not cease to amaze me. So far so good. One thing to note for niacinamide would be to not use it alongside a Vitamin C product.
"Buffet"
What's stated on the bottle: Multi-technology peptide serum
First Impressions: "Buffet", for me, has the thickest consistency of all the 4 products and applies on really tacky. Nonetheless, it gets fully absorbed within 3 minutes or so. The reason behind the name of this product would be the fact that it's a combination of different kinds of skin-benefitting ingredients. This would definitely be the closest to the traditional serums which feature a number of ingredients in 1 product to achieve an all-rounding effect on our skin. Along with different peptides, a key ingredient in "Buffet" would be Matrixyl, which is an effective anti-aging element. On top of all of that, there are also 11 kinds of skin-friendly amino acids and multiple hyaluronic acid complexes - all the good stuff.
And that concludes my first impressions of these 4 products from The Ordinary. I'm definitely liking these thus far and the price point is a big plus. So if you're looking to try out new skincare or specific ingredients, don't hesitate to spend on The Ordinary, because a splurge doesn't even feel like one. Now, I'm going to continue using these products for a good period of time so stay tuned for a review that's to come!